MOTION CONTROL
FOR EVERYDAY PRODUCTION
Motion Warriors is a leading motion technology company that specializes in the development, design, and manufacture of motion control products with applications across a variety of industries.

We design, assemble, and service all our products in our U.S. facility in Phoenix, Arizona. When possible, product components are also sourced in the U.S.
The newest addition to the Stealth product line, the Stealth Mini is smaller than the original Stealth Head but is actually more powerful and can still support digital cinema cameras of all sizes. Featuring a patent pending dual motor design that provides tons of torque, plus 16 channels of wireless communication that reaches up to 500 yards, the Stealth Mini is quick to set up, simple to operate, strong yet quiet, and surprisingly affordable.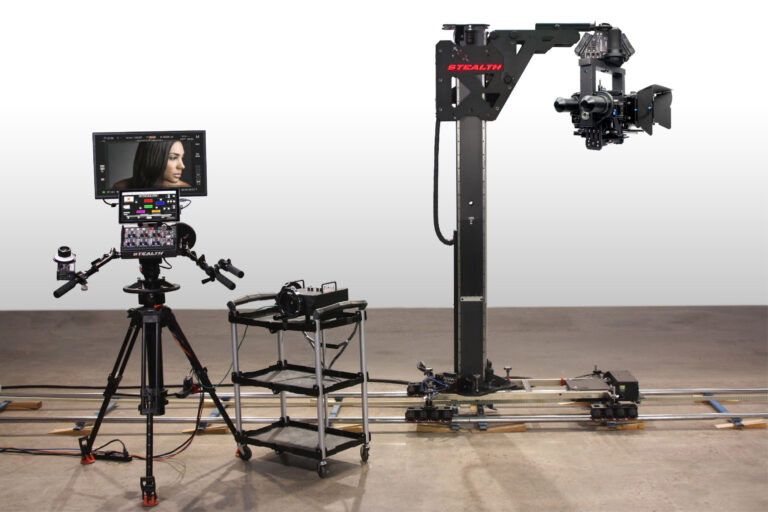 Simple, Quiet, Affordable Motion Control for Everyday Production
The Stealth System is a modular, highly configurable 8-axis camera motion rig.  Rather than just reworking a noisy automotive assembly robot, the Stealth System was designed from the ground up by a 30-year veteran cinematographer with the features he'd always wanted for his own projects.  The Stealth offers the functionality of high-end motion control systems but is designed and priced for everyday production.

Easy to set up and operate
The full Stealth System sets up in less than 30 minutes with 2 grips


Record a move in minutes rather than hours – no computer programming or specialized techs required


Recorded and live motion can be mixed


Automated repeatability reduces crew size and error – saving time and increasing productivity

No tools required for setup, and the entire system fits in a standard cargo van for easy transport

Set up the Stealth System in different configurations to create and capture the shot you want – it's a versatile toolkit for cinematographers


Intuitive controls and simple software interface puts creativity back in the hands of the filmmaker

Ideal for VR, AR, & green screen effects – 8-axis encoder output for use with special effects software (Maya/Mimic)

Time-lapse

Stop-motion animation
Optimized for studio or location use
Runs off 110V AC/12V DC or two motorcycle batteries for quiet on-location shoots

Patent pending motor technology is "stealth" quiet for open mic shoots
The Stealth System is competitively priced, and will make you more productive while reducing your crew

Financing available – $0 down and deferred payment options

Time lapse showing how fast the full Stealth System can be set up with just two grips
The Stealth System on the set of Joe Russo's short film, Midnight Clear, shot by ASC award-winning cinematographer Andrew Russo
Motion Warriors offers financing for your Stealth System
Fast and simple: A quick application and a credit decision in a few hours for most transactions
Low-to-no upfront costs: No money down, deferred payment up to 90 days, and 100% financing options
Buying confidence: With pre-approval, you'll know what you can afford to spend