JOIN THE REVOLUTION IN MOTION CONTROL
Simple, Quiet, Affordable Motion Control for Everyday Production
The Stealth System is a modular, highly configurable 8-axis camera motion rig.  Rather than just reworking a noisy automotive assembly robot, the Stealth System was designed from the ground up by a 30-year veteran cinematographer with the features he'd always wanted for his own projects.  The Stealth offers the functionality of high-end motion control systems but is designed and priced for everyday production.  Since "Motion Control" tends to mean noisy, heavy, and labor-intensive, we use "Motion Enhanced Cinematography"—the next generation of motion control—to describe the Stealth System.
Introducing Motion Enhanced Cinematography
Easy to set up and operate
The full Stealth System sets up in less than 30 minutes with 2 grips
Record a move in minutes rather than hours – no computer programming or specialized techs required
Recorded and live motion can be mixed
Automated repeatability reduces crew size and error – saving time and increasing productivity
No tools required for setup
Enhanced Creativity
Intuitive controls and simple software interface puts creativity back in the hands of the filmmaker
Ideal for VR, AR, & green screen effects – 8-axis encoder output for use with special effects software (Maya/Mimic)
Time-lapse
Stop-motion animation
Optimized for studio or location use
Runs off 110V AC/24V DC or two motorcycle batteries for quiet on-location shoots
Direct drive motors are "stealth" quiet for open mic shoots
Affordable
The Stealth System™ is competitively priced, and will make you more productive while reducing your crew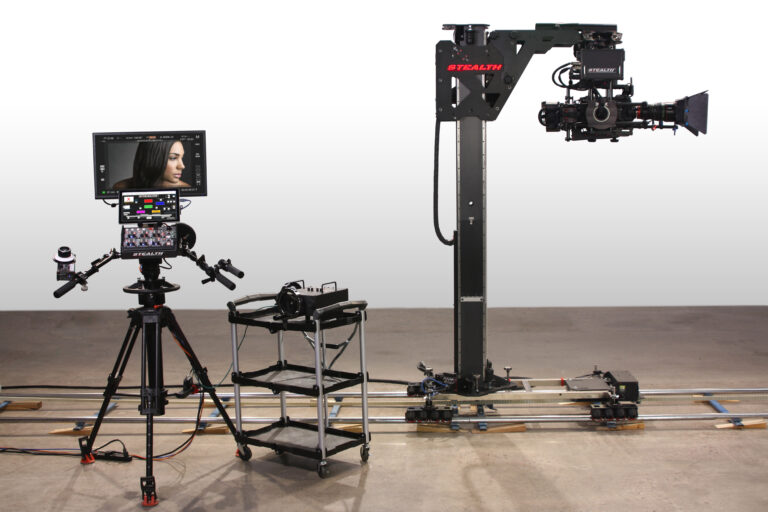 Configurable Components 
The main components consist of a 3-axis camera head, lift column, motorized dolly system, and 3-channel wireless lens control
Handwheels and/or pan bars control pan/tilt/roll, lift, and track movement
Record and playback moves with the simple and intuitive MARS software
Entire system fits in a standard cargo van
Self-levels the seat on all-terrain power wheelchairs
On-The-Fly Autoleveler
Motion Warriors has a heart for warriors of all types, whether it's indie filmmakers in the trenches of production, or veterans and other individuals who want to attack life without being slowed down by physical limitations. What started as a project to help our friend Jamison, the On-The-Fly Autoleveler is now part of the Motion Warriors arsenal of products.
Motion Warriors was founded by veteran filmmaker Steve David. Starting as a grip and working his way up to Director of Photography, Steve was frustrated by the lack of high-quality tools for independent filmmakers. Drawing on his engineering background, he began developing tools that would allow him to create high-end imagery without a Hollywood budget. These tools began attracting attention and excitement in the industry, and Motion Warriors was born.

Our team also includes other design engineers and filmmakers who have a passion for the indie community. We strive everyday to create user friendly products that don't require a robotics degree to use, or an eternity to set up. We want to revolutionize motion control, putting creativity back in the hands of the filmmaker.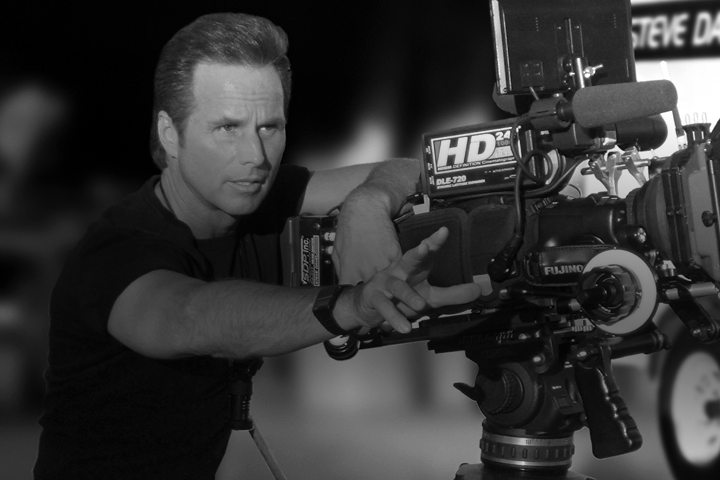 Motion Warriors has partnered with Ascentium Capital to offer financing for your Stealth System
Flexibility:
 Financing up to $1.5 million
Simplicity:
 For up to $250,000, all that's required is a quick application
Fast service:
 Instant credit decisions for most transactions
Low-to-no upfront costs:
 Deferred payment up to 6 months and 100% financing options are available
Buying confidence:
 With pre-approval, you'll know what you can afford to spend